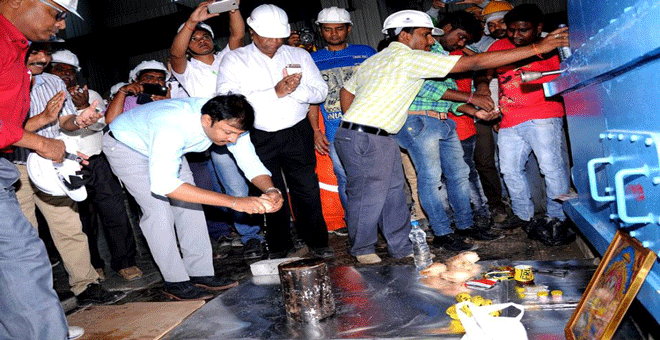 ---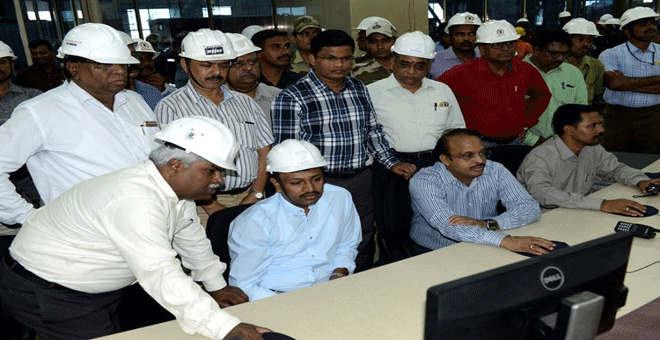 ---
Synchronization of power production was successful in one of the 2x600 MW Singareni Thermal Power Plants (STPP) at Jaipur mandal, Adilabad District on 13.03.2016.This milestone activity was celebrated in the presence of Sri N. Sridhar, IAS, C&MD, SCCL who congratulated all the concerned for putting good efforts to complete the plant in time.
On this occasion Mr. Sridhar said that synchronization activity in another plant will also be completed by April and then both plants will be ready for commercial operation by 1st week of May. Hon'ble Chief Minister of Telangana State Sri K. Chandrasekhar Rao will then dedicate 1200 MW of Singareni power to Telangana State. He thanked Chief Minister for his special interest in this project and co-operation rendered to finish it in time. Mr. Sridhar said that CM has visited this plant thrice. He also said that SCCL is quite happy to serve the state with its coal as well as power and for making significant contributions towards "Bangaru Telangana".
Mr. Sridhar offered prayers at power generating unit and then took part in the synchronization activity at Central Control Board. Synchronization activity started at 11 AM when the power production was at 50 MW, then it slowly gained momentum to reach 600 MW by 3 PM. The power thus produced on trail run was synchronized to Gazwel grid.
Singareni Directors Sri A. Manohara Rao, Director (Planning & Projects), Sri P. Ramesh Babu, Director (E&M), Sri J. Pavithran Kumar, Director (PAW&F) and Executive Directors Sri Sanjay Sur, Sri Srinivasa Rao, recognized and representative Union leaders were also present on the occasion.